Hey Everyone,
Sarah and I flew to Las Vegas this past Sunday night (March 21) to prepare for the CTIA conference and the PUSH N900 competition. We spent Monday setting up for the conference.
Tuesday morning, we got up really early to meet with the judges and to present the Bike Dashboard. Here are the finalists: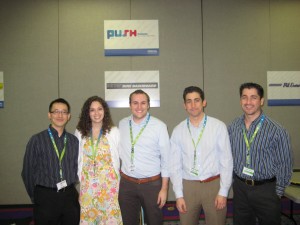 We had a lot of fun presenting to the judges. One of the judges, Chris Ziegler, a writer for Engadget, taped our presentation. You can find the video here. The only part he didn't tape was the video we made showing how the GPS works. Here is that video:

Sarah taped me demonstrating how the Bike Dashboard worked on the Nokia floor. Here's that video:

Here's a video of the award presentation:

To our happy surprise, we won first place!

People were really interested in our design and we had so much fun telling them all about it. We had a lot of interviews throughout the day, which was a new experience for us. It's been so fun to find articles about us online, though. Here is what we've found so far:
engadget article including a video of our presentation
official Nokia PUSH N900 blog
Another Nokia website
PC Magazine photo's
EDIT: We've been featured on Make Magazine's website! Wow, this is a dream come true for me to be featured on all these blogs I read daily! Thanks everyone!
This one is in Russian, and the google tranlated page is here
These are just the ones we've found. If you find one I haven't mentioned here, please leave a link in the comments. Going through this whole process-from the time I found the competition, to being accepted as a finalist, to creating the Bike Dashboard in a little over 3 weeks, and being chosen as the winners-has been an unbelievable experience. I'll be writing all the details soon. I just wanted to get a post out about the competition. If you want to see more pictures or videos, you can check out these links: